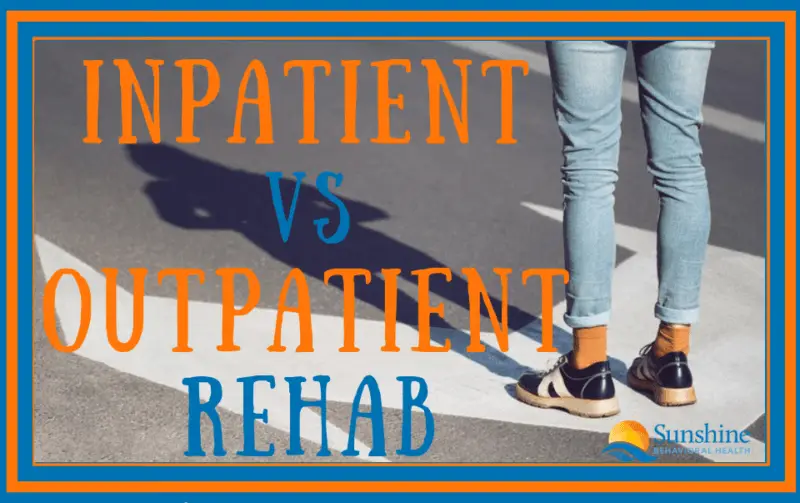 Inpatient Vs Outpatient Rehab: Which Is Better?
When looking into addiction treatment programs, knowing the difference between inpatient vs outpatient rehab is important. The main difference for one is that patients in outpatient rehab remain living at home whereas inpatient rehabilitation patients live at the treatment facility. Each program focuses on rehabilitation and offers unique qualities and benefits to the patient. If you or someone you love struggles with addiction, begin the road to sobriety by learning more about inpatient vs outpatient rehab.
Inpatient Rehab Program
Inpatient rehab, also known as residential rehab, requires the patient to check themselves into a structured setting to overcome their alcohol and drug addiction. Patients remain at the center and receive 24-hour medical and emotional support. Inpatient rehab can be an effective treatment method for people with severe addiction and people who are simultaneously dealing with an addiction and mental health condition like bipolar disorder.
Living in the rehab center helps the patient avoid the influences and temptations in their daily lives that may trigger substance use. During inpatient rehab, the patient's day is carefully scheduled out for them. Counselors, psychologists, and psychiatrists meet in both group and individual settings to help guide the patient in their recovery.
The first step in recovery in inpatient rehab is most often a medically supervised detox. During this phase of rehab treatment addiction, specialists and physicians monitor patients' vital signs while the substances leave the system. It is common for the patient to experience cravings at this time that can be difficult to overcome. In some cases, these cravings lead to relapse. Medical professionals at the rehab center can provide the patient with the needed medical expertise and medication to lessen the withdrawals and cravings.
Detox should not happen without medical supervision. Withdrawals can be fatal. Substances linked to fatal withdrawals include alcohol, benzodiazepines, synthetic opiates, and heroin.
Contact and Support of Family in Inpatient Rehab
Family involvement is a crucial part of the recovery in successful inpatient rehabs. Family members are encouraged to contact their loved ones during their stay in a treatment facility to provide them with the emotional support they need.
It is important to learn how and how often residents can communicate with their loved ones while in a rehab facility as each facility has their own policy. Counseling is also available for family members as well in many rehab centers.
Outpatient Rehab Program
Outpatient rehab involves daily treatment. This includes counseling, therapy, or group sessions at a rehab facility or clinic. People who choose treatment as an outpatient can remain living at home while they recover, allowing them to stay in school or at their job, and letting them take care of family members or children. The cost of outpatient rehab is typically less than inpatient rehab. However, the level of support the patient receives may be less intensive.
Most outpatient rehab treatment programs involve group or individual counseling and use a step-down approach. This means as you grow during treatment, the sessions become less frequent and intensive. Outpatient recovery programs generally take 10 to 12 hours per week or more when starting and can last three to six months or more. This treatment method is best for those with a mild addiction.
Many outpatient rehab patients with mild-to-moderate drug withdrawal symptoms begin their treatment with outpatient detoxification. The process of outpatient detox is safe and effective.
During outpatient detox, patients are required to visit a treatment facility or hospital for physical and mental check-ups. Doctors or clinicians might order medications to lessen withdrawal symptoms like increased heart rate, depression, and anxiety.
Support During Outpatient Rehab
Outpatient rehab allows those who are addicted to drugs and alcohol to continue to stay at home during their treatment. Patients of outpatient rehab can remain close to friends and family and continue working or attending school. Outpatient treatment center meetings are conducted either the early morning or evening. This helps those in the rehab program maintain their normal home life schedules. Sometimes, these centers can be at Narcotics Anonymous (NA) or Alcoholics Anonymous (AA)
Recovering addicts also attend outpatient rehab programs as a way of continuing recovery after completing an inpatient program.
Costs of inpatient rehab programs are typically more than outpatient rehab programs. Treatment costs are increased with the on-hand psychotherapy and medical care available to patients. However, when considering inpatient vs outpatient rehab, the difference in cost should not be a factor in choosing the best treatment course available to them.
Highlights of Inpatient vs Outpatient Rehab
For a quick comparison of both rehab method, we listed the highlights of each below:
Inpatient Rehab
The patient remains in the facility.

Costlier.

Higher success rate.

24-hour emotional and medical support.

Disrupts patient's daily life.

No distractions or triggers from everyday life.

Created for more serious addictions.

Last from 28 days to six months or more.
Outpatient Rehab
The patient remains at home and can continue the normal schedule. Must go to the treatment center during day or evening.

Less costly.

Lower success rate.

The patient continues daily routine as a job or school.

Easy to get to their social support circle.

Lasts from three months to more than a year.

Best for someone with a mild addiction.

Requires 10 to 12 hours per week.
Whatever Your Decision – Inpatient vs Outpatient – Recovery is Possible
Addiction is an illness and recovery require a lifetime commitment. Regardless of which treatment option you decide on – inpatient vs outpatient – recovery is possible for you or your loved one. Take that first step today and contact an addiction specialist to learn more about inpatient vs outpatient rehab.

A Message From Our CEO
Medical disclaimer:
Sunshine Behavioral Health strives to help people who are facing substance abuse, addiction, mental health disorders, or a combination of these conditions. It does this by providing compassionate care and evidence-based content that addresses health, treatment, and recovery.
Licensed medical professionals review material we publish on our site. The material is not a substitute for qualified medical diagnoses, treatment, or advice. It should not be used to replace the suggestions of your personal physician or other health care professionals.