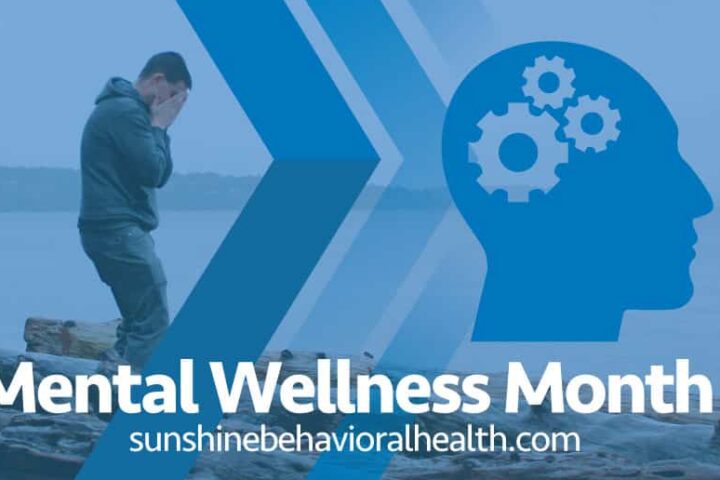 Mental Wellness Month: Improving Mental Health During Uncertain Times
The ongoing uncertainties we face about the world can make life even more difficult for people with mental health conditions.
In the new year, what are some ways we can care for ourselves during challenging times?
January is known as Mental Wellness Month. This differs from Mental Health Awareness Month, which is celebrated in May, because January's commemoration focuses on one's sense of mental and emotional well-being, whether people have a mental illness or not.
Now is an especially good time to focus on our mental health. The rates of depression, anxiety, substance abuse, and other related conditions have increased in numbers since the pandemic turned the world upside down.
Some people might think that we don't have options or have limited options to improve our mental wellness. It's true that the pandemic and safety measures have created limitations and have changed the way we do so many things.
But thankfully, there are still things you can do to keep your mental health in check with social distancing requirements, government stay-at-home orders and lockdowns, and various closures. Here are some affordable yet effective things that people can do to boost their mental health, even during uncertain times.
Mental Wellness Ideas
Creating Arts and Crafts Using Simple Materials
Art allows us to focus on the creativity and beauty of life.
The pandemic and other worries have created pent-up emotions, stress, and thought patterns that can slowly disintegrate our mental well-being. Finding a creative outlet for such internal baggage can restore your sense of peace and stability.
Some crafty ideas that you can start right now include:
Recycling materials: You can use old plastic bottles, glass, paper, or any other items in your home. Use recycled materials to create home decor and functional items. Maybe you can even earn some money by selling these products.
Sketching: If you have a pen or pencil and paper at home, you can start sketching. Draw a happy childhood memory, a place you want to travel, or even something abstract that describes your current emotions.
Creating nature-based art: Items found outside can help you channel your creativity. Pick leaves, wildflowers, or other natural materials and glue them onto a canvas. Or, consider making potpourri or other home decor products out of dried foliage.
Finding Physical Activities to Enjoy
People always tell us to exercise for our overall health, but we might not always be motivated to do so. To make it easier to exercise, choose physical activities that you enjoy or imagine yourself enjoying.
Many people enjoy participating in different sports and physical activities. Depending on the weather near you, you can swim, walk in the snow, jog on nature trails, or participate in other activities that allow you to safely exercise.
Other people might prefer exercising indoors using fitness equipment, following workout DVDs or internet videos, or joining remote courses. Whatever you do, choose physical exercises you find fun so exercising is a pleasure, not a chore.
Joining Online Support Groups
If you're struggling with substance abuse, addiction, or other conditions, you can join an online support group to provide encouragement and accountability.
People in peer support groups might be currently sharing similar struggles or might be in substance abuse recovery. They can help you approach your problems and remind you that you're not alone.
When joining online support groups, it is important to:
Respect others: Your perspective might be different from other people, and this is why members of online communities require respect and tolerance for one another's views.
Guard privacy: Only divulge information that honors the safety and privacy of you and other group members.
Reciprocate support: Since others are trying to support you, try to provide encouragement to others who may be struggling.
Mental Wellness for Difficult Times
We hope that these ideas can help you address your mental well-being. This Mental Wellness Month, being resourceful, creative, and eager to help yourself and others are a few ways to build a healthy and fulfilling life.
Sources
fortune.com – Nearly 100,000 Establishments That Temporarily Shut Down Due to the Pandemic Are Now Out of Business
beautyharmonylife.com – 25 DIY Ideas to Recycle Your Potential Garbage

A Message From Our CEO
Medical disclaimer:
Sunshine Behavioral Health strives to help people who are facing substance abuse, addiction, mental health disorders, or a combination of these conditions. It does this by providing compassionate care and evidence-based content that addresses health, treatment, and recovery.
Licensed medical professionals review material we publish on our site. The material is not a substitute for qualified medical diagnoses, treatment, or advice. It should not be used to replace the suggestions of your personal physician or other health care professionals.