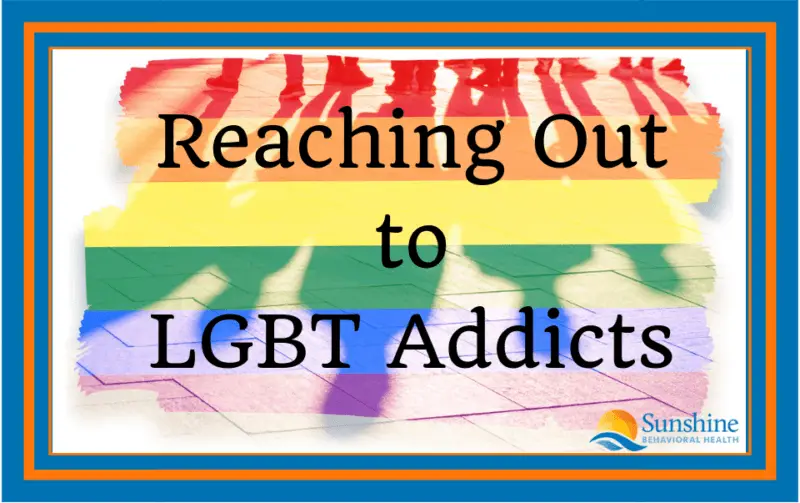 LGBT Substance Abuse Treatment
Many studies show that the LGBT group has more substance abuse problems and is less likely to abstain from alcohol than heterosexuals. Researchers suggest that these differences exist because of more prevalent activities in LGBT communities. These activities include bars and circuit parties primarily involving drinking and drug use. Another reason for the disparity is attributed to the additional stress that LGBT people have to bear due to their status as a sexual minority.
Challenges for LGBT Substance Users
Heterosexual individuals with substance abuse problems face negative stereotypes and stigma when they admit their condition and seek treatment. The challenges they face, however, are only a portion of what LGBT substance abusers have to go through. People who identify as lesbian, gay, bisexual, or transgender have to endure the following in addition to their addiction:
Discrimination

Social stigma based on sexual preference

Rejection by family, friends, or members of the community

Work Discrimination

Public ridicule or humiliation

Self-hatred (internalized homophobia)
Addiction Treatment for the LGBT Community
LGBT individuals with substance abuse problems need to seek treatment from any of the reputable addiction rehab centers in the country like their heterosexual counterparts. Addiction treatment for the LGBT group requires the same sequence and interventions as the ones provided to other clients. The key components of effective treatment include:
Comprehensive assessment – during this process, the recovering LGBT addict will be assessed to determine the severity of his or her condition and the presence of co-occurring disorders or other medical conditions to create a suitable addiction treatment plan.

Detoxification or Stabilization – this stage requires the purging of all traces of alcohol or other substance of choice from the system of the substance abuser and the continuous cessation of drug use.

Treatment or Acute Care – during this stage, the drug-addicted individual will undergo various evidenced-based treatment techniques, such as behavioral or psychotherapies and medication (for addiction, co-occurring disorder, or health problem).

Aftercare or Support Services – recovery does not end after rehab treatment. The recovering addict should continue participating in aftercare programs such as support group meetings to achieve long-term sobriety.
Nuance Treatment for LGBT Substance Abuse
While LGBT addiction treatment progresses similar to the treatment program of heterosexuals, it is important to note that there is a need for nuance treatment for LGBT addicts during the entire rehabilitation process. This is specifically to teach an affirmative treatment approach and to create a trauma-informed setting.
Affirmative treatment is a strategy to assist sexual minorities to move from feelings of shame to pride. This approach essentially adopts a positive and more accepting view of members of the LGBT community while at the same time addressing the negative effects of homophobia, transphobia, and heterosexism. The affirmative treatment approach is built on the following principles:
Sexual minorities should be dealt with concerning the environments in which they interact and the roles they assume in these settings.

LGBT people have strong points that they can utilize to address their problems.

Treatment practitioners should practice culturally competent treatment.
To be effective, addiction rehab facilities that cater to LGBT clients and profess to practice the affirmative approach should:
… avoid assuming that the drug-addicted patient is heterosexual

… recognize that heterosexism and rejection by society have significant effects on LGBT people

… work with LGBT recovering addicts to lessen their self-hatred or internalized heterosexism

… be well informed on the process of "coming-out"

… direct the treatment process in a way that the LGBT substance abuser will develop a complete acceptance of his/her identity.
Reaching out and assisting LGBT substance abusers in their addiction recovery journey requires understanding and acknowledging their unique history and background. Family members, friends, and treatment professionals who want to help an LGBT addict should, first and foremost, learn to treat him or her with respect. Only then can effective addiction intervention commence.

A Message From Our CEO
Medical disclaimer:
Sunshine Behavioral Health strives to help people who are facing substance abuse, addiction, mental health disorders, or a combination of these conditions. It does this by providing compassionate care and evidence-based content that addresses health, treatment, and recovery.
Licensed medical professionals review material we publish on our site. The material is not a substitute for qualified medical diagnoses, treatment, or advice. It should not be used to replace the suggestions of your personal physician or other health care professionals.