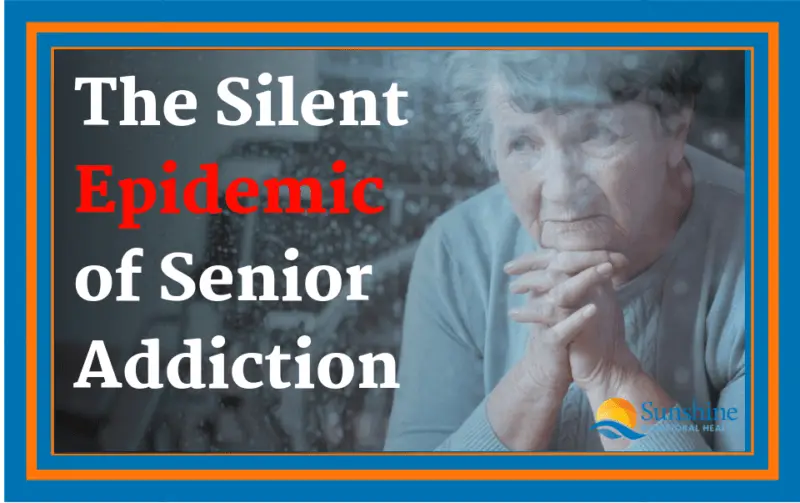 Addiction is an illness of the brain and the body that affects the total well-being of an individual. Unfortunately, this disorder knows no race, religion, gender, age, or demographic classification. The U.S. Department of Health's Addiction Prevention and Recovery Administration reported that more than eight million older adults are addicted to drugs and alcohol.
As the generation of baby boomers age, that number is expected to increase. These statistics reveal that there is a rising demographic of baby boomers and seniors who are suffering from substance and alcohol abuse and addiction. In 2006, the National Council on Alcoholism and Drug Dependence, Inc. reported that there were 2.8 million people 50 years and older who need substance abuse treatment. By 2020 it is expected to rise to 5.7 million.
Most often, our society focuses on addiction among teenagers and young adults. Because older Americans represent a small percentage of addiction rehabilitation, they have somehow become an overlooked class of addicts.
How Addiction Starts Among Seniors
One of the leading causes of addiction among the elderly is dependence on prescription painkillers. Most often, senior patients start taking prescription painkillers to manage pain after an injury or a surgery. Medical doctors sometimes prescribe painkillers to ease the daily aches related to the aging process.
These prescription medications often contain oxycodone or hydrocodone as their primary ingredient. These substances are potent opiates and are related to drugs like heroin, opium, and morphine. Regularly taking painkillers can lead to dependence that could eventually turn into addiction.
There are also times when older adults become addicted to prescription drugs unintentionally. Since seniors have access to many prescription drugs, they sometimes confuse one medication for another. As a result, they take the wrong medication.
Some older adults suffer from depression and anxiety because of many contributing factors. This includes a major transition in life taking place. Real difficulties of aging could easily stack and propel seniors to alcohol or drugs.
Signs and Symptoms of Senior Addiction
The first step in resolving anything is identifying the existence of an issue. In this case, you need to look for signs and symptoms of addiction in your loved one. Whether it is an addiction to an alcohol or substance, there are several indicators that will tell you that addiction is taking hold of the life of your loved one.
Among the signs of addiction includes an increase in sense of isolation, increased agitation, and dependence on sleep aids. You may also notice their loss of interest in hobbies or other pleasurable activities and a change in their personal hygiene.
Another indicator of addiction includes frequent or immediate use of tranquilizers. Your loved one may also complain to you about unsupported and chronic health issues. Seniors who are hostile or showing signs of depression could be already hooked to drugs or alcohol.
Senior Addiction Treatment Programs
When you have already identified the problem, there are various treatment alternatives that can help older adults break free from substance abuse and addiction. It is important to note that seniors or older individuals have a different physiology compared to younger people. Alcohol and drugs most of the time take an inordinate toll on their bodies.
This could mean that a lower dose could trigger addiction. Withdrawal symptoms could also become more severe if the person decides to end taking the substance or alcohol. These are just some of the factors why a tailored and specific treatment program for older persons is required.
In addition, treatment programs should concentrate on communicating with these patients in a respectful and emphatic manner. Both normal and abnormal cognitive age-related changes should be given emphasis. This is very important since some older adults may not be aware of the risk they are putting themselves by taking these substances.
There are addiction support groups that can help seniors or older people build a new life. These groups can provide fellowship and moral support since these are the same people who deal with the same difficulties as yours. Those fighting addictions could also use the help of therapists.
They can guide the addicted individual analyze the causes of the problem and help them achieve a solution. There are also addiction rehabilitation centers and treatment facilities that can help seniors break free from addiction and start a new life.
Seek Help
Seek help from your support system if you are showing signs of addiction. It could be your family, friends, or your special someone. Do not hesitate to share your thoughts or fears with them.
Addiction can be very hard for a senior to see at first. Aside from this, recovering on your own is not impossible, but is very hard. Addiction is very hard, especially for seniors or older adults since they are susceptible to social isolation.
Removing yourself from the crowd and suffering alone can aggravate the essential issues that can lead to addiction. Isolation, depression, and addiction are a situation that creates a very dangerous cycle. Boredom is also a cause of addiction. Having a support group could help you get to the main causes of addiction.
What You Should Do
If you or a loved one show any signs of addiction, it is high time to talk to your doctor. This is the first and important step in your journey to recovery. Your doctor will help you understand various alternatives for your treatment. It could be a referral to an inpatient rehab or program or a support group. If your doctor is aware of your situation, they will be aware and consider prescribing medications to you.
Does Medicare Cover Rehab?
One of the major reasons people do not seek help or go to rehabilitation is because of the expense. If you are a senior with Medicare, the expense will not be your major concern.
Under Medicare, drug and alcohol facilities are inpatient facilities. Therefore, Medicare will cover addiction treatment if providers deem it medically necessary. In this instance, it belongs to Medicare Part A. However, Medicare Part B covers instances where rehab is outpatient. In addition, these types of services are also covered by Medicare Advantage plans. With your Medicare coverage and Medicare Advantage plan, getting help for your addiction is easy and affordable.

A Message From Our CEO
Medical disclaimer:
Sunshine Behavioral Health strives to help people who are facing substance abuse, addiction, mental health disorders, or a combination of these conditions. It does this by providing compassionate care and evidence-based content that addresses health, treatment, and recovery.
Licensed medical professionals review material we publish on our site. The material is not a substitute for qualified medical diagnoses, treatment, or advice. It should not be used to replace the suggestions of your personal physician or other health care professionals.