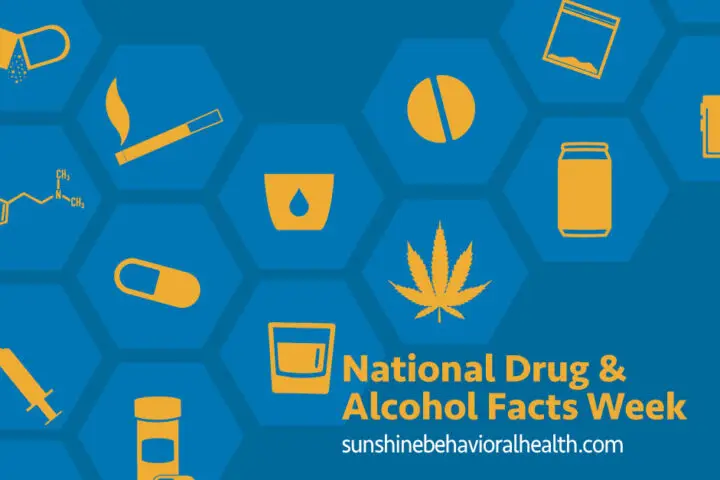 The Sobering Truth: National Drug and Alcohol Facts Week
In 2021, March 22nd to 28th was designated National Drug and Alcohol Facts Week, a campaign created and promoted by the National Institute on Drug Abuse (NIDA) to increase awareness of substance abuse. To commemorate this week, what are some important and sobering facts that we should know about addiction?
Information on alcohol and drug addiction is everywhere. Technology provides us with easy access to information about the dangers of addictive substances and how to find help.
However, not all people, especially those who are actively experiencing addiction, will go out of their way to seek such information. This is why there are informational campaigns designed to spread awareness, in the hopes that they can reach someone who is in need.
There are numerous facts about substance abuse that illustrate the dangers of addiction. This post explores some of the most sobering ones (pun intended) that may encourage you or a loved one to take a step toward recovery.
1 in 8 adults qualifies for a diagnosis of an alcohol use disorder (AUD)
For example, one out of eight U.S. residents has a serious problem with alcohol that qualifies as an alcohol use disorder. Drinking is popular in many societies and there are many people who misuse alcohol.
If you're one of those people, don't feel ashamed. Understanding that alcohol abuse is more common than you might think can reassure you that you are not alone in your struggles. You can find treatment without shame, and it is possible to recover, no matter how severe you think your condition is.
Alcohol-related deaths are the third most-common preventable causes of mortality in the U.S.
Every year, over 80,000 people die from alcohol-related causes in the United States. Whether they occur due to health deterioration, accidents from driving under the influence, intoxication-related violence, sudden withdrawal, or other causes, people can avoid these scenarios by seeking assistance for alcohol misuse.
Reflecting on such negative consequences of alcohol could encourage you to imagine what it would be like to live without addiction-related problems. Without alcohol, you might be able to devote more time and resources to your true priorities, explore more opportunities, and strengthen your relationships with the people you value.
1 in 10 adults has used illicit drugs in the past year
Data from the Centers for Disease Control and Prevention (CDC) have indicated that many people try drugs, even if they're illicit (illegal) substances. A casual use of narcotics can become a full-blown drug addiction, which can be challenging to overcome.
Some people use drugs a few times and never have cravings for them, but others develop cravings and addictions. In addition, some drugs are more addictive, such as heroin or cocaine.
Since drug use is so common, if you're a parent, it's important to monitor your children's behaviors and understand the subtle signs of abuse. Sometimes, addiction can slowly develop before an individual realizes it. It is helpful to be aware of the signs of drug tolerance and dependence in order to prevent the dangerous health consequences of addiction.
Drug overdose deaths are so prevalent that they're considered a public health crisis
Other CDC research has revealed that thousands of people have died from drug overdoses in the United States since 1999. The U.S. federal government considers drug overdose deaths to be a public health crisis.
Despite efforts to combat this problem, these deaths continue, although the drugs involved might change. Some synthetic illicit drugs are extremely potent and dangerous for people's health. If people unknowingly use these more dangerous drugs, the results can be fatal.
Addiction, drug overdoses, and cravings can lead to health dangers. Whether a person is using drugs long-term or is experimenting with them for the first time, drug overdose can occur and can potentially lead to death. Arming yourself with the truth can help you battle addictions and drug overdoses.
Hard Truths and Open Eyes: Sharing Facts on Addiction
Such facts and statistics can be startling, but these truths can help one face the reality of addiction. National Drug and Alcohol Facts Week encourages people to prevent substance abuse in their own sphere of influence and to find and share information about treatment assistance. It can be a life-and-death matter.
Sources
sunshinebehavioralhealth.com – Contact Us
cdc.gov – FastStats – Illegal Drug Use
niaaa.nih.gov – Understanding Alcohol Use Disorder
nhtsa.gov – Drunk Driving
sunshinebehavioralhealth.com – What Are the Different Types of Drugs and How Are They Treated?
cdc.gov – Data Briefs

A Message From Our CEO
Medical disclaimer:
Sunshine Behavioral Health strives to help people who are facing substance abuse, addiction, mental health disorders, or a combination of these conditions. It does this by providing compassionate care and evidence-based content that addresses health, treatment, and recovery.
Licensed medical professionals review material we publish on our site. The material is not a substitute for qualified medical diagnoses, treatment, or advice. It should not be used to replace the suggestions of your personal physician or other health care professionals.