When veterans come back home, they are faced with many difficulties. They are returning from combat. They have seen things that people should never have to see in their life. Veterans can't explain it to their loved ones and many won't admit they need help, so they hold it all inside. This can be devastating to their mindset and cause emotional wreckage. Coping with the trauma of being in a battlefield is unexplainable. Due to this, there are many veterans who self-medicate. They use drugs or alcohol to help them hide from what they have been through. They may also self-medicate to cover up the emotions or pain they are experiencing. Veteran addiction rates are very high. However, there are many veteran addiction services and solutions for those who need to rebuild their life after coming home from the service.
Resources for Veterans and Their Families
There are many crisis lines available for veterans and their family members whenever they need advice or support.
Veteran Crisis Line
Veterans' Crisis Line – This crisis line is the main one for United States veterans. Family members and friends can call this line too. The number is 800-273-8255. You will be connected to responders from Veterans Affairs. There are also online chat options and texting to 838255.
Military Helpline – This is ran by the Lines for Life. It is open 24/7 and it is a free resource to veterans who are experiencing mental health issues, including any suicidal ideations. The staff includes veterans and others who have military experience. You can call 888-457-4838. You can text 839863 with the message MIL1.
PTSD Resources
There are many PTSD resources available for veterans as well.
Understanding PTSD and PTSD Treatment – This booklet was made by HealthFinder.gov. It has information and facts related to PTSD including treatment options and the basics of this illness.
National Center for PTSD – This is run through the Department of VA. It has tons of information regarding PTSD. WIth this resources, veterans can learn how they can get treatment for the illness.
Warrior Pose Article – This article was posted in the Washington Post and focuses on veterans practicing yoga to overcome the illness, PTSD.
Female Veteran Resources
There are many resources to help female veterans who suffer from an addiction because of mental health illnesses and similar issues.
Women Veterans and Mental Health – WomensHealth.gov has this section to provide female veterans with information about mental health. Some information relates to substance use disorder, sexual trauma, and PTSD.
WomensHealth.gov – On this website there is information regarding female veterans, alcoholism, and addiction related behaviors.
Women Veterans Call Center – The VA service is for the female veterans who need to discuss any issues including addiction. You would dial 1-855-VA-WOMEN.
Treatment and Rehab
Veterans who are addicted to drugs or alcohol need addiction treatment. There are resources that can help them get proper treatment.
SAMHSA – This resource is also called Substance Use Disorder and Mental Health Services Administration. It offers treatment services for behavioral health with location based help. This is for civilians and veterans.
Veterans Health Administration – VA.gov allows you to find medical facilities that help veterans.
Alcohol and Drug Dependence Rehabilitation Program – The VA runs this program. It offers veterans who are drug or alcohol dependent many different therapy treatment options. Some services include psychiatric and rehabilitation.
SMART Recovery – This program is international and helps those who are affected by substance use disorder or addiction. This recovery resource offers in-person and online meetings.
Substance Use Disorder (SUD) Program Locator – This VA interactive map allows you to find local substance use disorder programs, for outpatient and inpatient treatment.
Health Resources and Services Administration – This website allows you to locate health facilities all around the United States that offer substance use disorder care.
Narcotics Anonymous (NA) – This program allows those who suffer from a drug addiction to get support. It is not only for veterans, but it can offer anyone who struggles, the daily and weekly meetings they need.
Resources for Mental Health
Veterans often suffer with mental health illnesses. These resources could help them or their loved ones.
Vet Center – There are Vet Centers all around the United States that help the veterans who need it to get back on their feet after deployment. They can receive many services for suicide prevention, PTSD, and more.
NAMI Veterans Resource Center – National Alliance on Mental Illness or NAMI has resource to help people in the military or veterans with any mental health issues.
National Institute on Mental Health (NIMH) – This resource helps improve mental health for people all around the United States, veterans included.
Depression and Bipolar Support Alliance – This resource offers people who are suffering with bipolar disorder or depression the help and support they need.
Alcohol Addiction Resources
Many veterans suffer with alcohol abuse. These resources can provide them with the help they need.
National Institute on Alcohol Abuse and Alcoholism (NIAAA) – This publication talks about military alcohol abuse and the relation to trauma in the military.
Alcoholics Anonymous (AA) – Alcoholics Anonymous or AA offers free meetings for those who suffer with alcohol abuse disorders. It is not only for veterans, but can help anyone who needs support in recovery from an alcohol addiction.
Rethinking Drinking – This website has a lot of information regarding alcohol and the dangers of substance use disorder.
Resources for Veterans and Family Members
There are many substance use disorder and other resources that can help veterans and their family members.
Supporting Military Families – This is a section of the HHS website that offers resources for military and veteran families. It has resources regarding mental health and substance use disorder.
Operation Homefront – This service offers military personnel, spouses, and children of veterans the support they need. It is for substance use disorder support and other supports as well.
General Veteran Resources Regarding Addiction
There are some general veteran resources regarding substance use disorder and addiction that might be helpful.
DrugFacts: Substance Use Disorder in the Military – This resource, created by NIDA, offers veterans and family members of veterans the help they need regarding alcohol and drug abuse rates, effects, and treatments for military members.
Make the Connection – This website offers you stories from veterans who overcame mental health and substance use disorder issues. The stories can help veterans and their family members.
VA Caregiver Support – This VA program offers help, including coping skills, a support line, and more, to the family members of veterans who have been injured.
National Institute on Drug Abuse (NIDA) – This resource has a lot of information regarding commonly abused drugs and addiction news throughout the United States.
VA Tobacco Use Page – This VA website section focuses on helping veterans overcome tobacco addiction along with mental health issues. There is help on quitting as well.
National Recovery Month – This resource is for veterans and anyone who wants to support someone who is overcoming an addiction. It includes event details, personal stories, and a lot of other recovery information as well.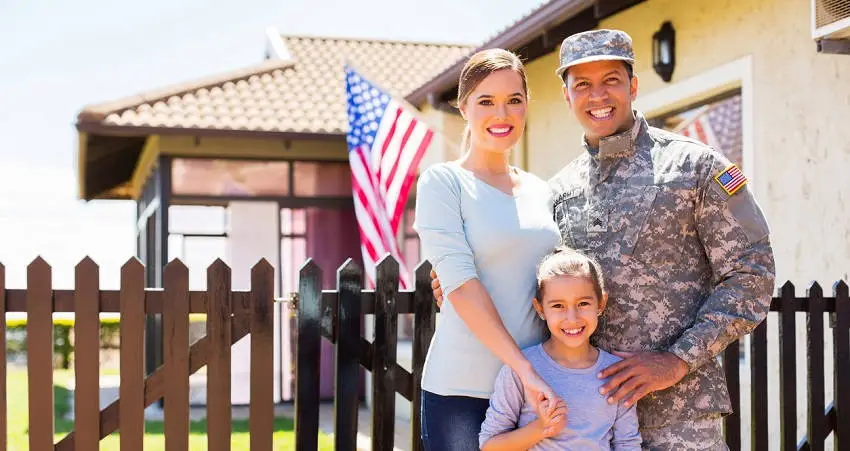 Are you a Veteran Suffering from Alcohol or Drug Addiction?
Start the Road Toward Recovery Today
Families are Affected Too
When veterans come home from deployment, their families are affected as well. Dealing with a loved one being away, whether in wartimes or times of peace, is difficult. Having them come home as a different person can be traumatizing. It may seem like you don't even know your child, sibling, spouse, parent, or friend. The trauma they went through is unspeakable and they may be dealing with PTSD. Some veterans even experienced injury of some sort while they were away. Even for the closest of families, this trauma or an injury can be devastating. It can tear families apart.
This is a guide to help both the veterans who have become addicted to drugs or alcohol and the families of the veterans. If you have questions about veteran addiction help or veterans coming home with PTSD, hopefully you can find those answers in this guide.
Addiction and Veterans
It is important to know more about veterans and addiction statistics. There is one study that shows substance use disorder has increased in veterans. This is true especially for those who have gone through combat. Those experiences can be extremely tough on a person and they may not know how to deal with it. Even more is that those who are exposed to violence have a higher risk of addiction or substance use disorder as well. Many veterans who have experienced combat have symptoms of PTSD. They have nightmares, flashbacks, memories, and more. They may be constantly tense and on edge. The trauma sticks with them each day, even after getting back home.
There are many reasons why some veterans may start using drugs or alcohol. They may be trying to self-medicate, so they can get sleep. Many veterans deal with insomnia after coming home. Many veterans with traumatic brain injuries self-medicate with drugs or alcohol as well. It should also be known that veterans have a higher risk of suicide when suffering from addiction and a mental health illness. For the veterans who have a co-occurring disorder, which is both an addiction and mental health illness, there are veteran addiction treatment center programs to help.
Veterans, Substance Use Disorder, and Stress
When veterans come home after being out on the battlefield, there is an increased risk of substance use disorder. This is especially true if they are also dealing with PTSD, pain, trauma exposures, or a traumatic brain injury. In the history of the military, higher levels of drinking have been reported. However, there have been recent spikes in controlled substance consumption.  In fact, JAMA reported that out of 88,235 veterans who had been in combat, 12 to 15% of them had a substance use disorder issue, within 3 to 6 months of being home. If you have been in combat and need help fighting off a substance use disorder disorder, you can receive veteran addiction treatment.
Other research shows that veterans who had life-endangering exposures with other people had higher rates of alcohol abuse disorders. Some of these veterans even tested at dangerous alcohol consumption levels as well. The line between veterans and addictions is a clear one, but it should be known there is veterans affairs addiction treatment, for those that need it.
PTSD
Post-traumatic stress disorder is very common amongst veterans. Seeing all the violence, death, and different things that go on in war can easily cause PTSD. While many others can get PTSD as well, this is still an ailment that is widely known with veterans and soldiers, for both women and men who served. It should also be known that sometimes the symptoms of PTSD don't show up until months or even years after the soldier comes home.
Some of the symptoms of PTSD include:
Re-experiencing the traumatic events, usually as flashbacks or nightmares (these could be very disruptive to sleep patterns and could impact daily living as well)
Behaviorally and emotionally avoiding places, activities, things, or event people that remind the veteran of the trauma (they may even avoid a loved one who cares deeply about them because something about that person triggers their flashbacks)
Constantly on edge and tense (could be scared easily or even start overreacting to regular stimuli, be hard for loved ones to be around, and may have sleep issues because of this too)
Any veterans who are dealing with PTSD should know there are veterans addiction recovery center programs they can enroll in. These programs are very helpful for veterans who have self-medicated with drugs or alcohol because of their PTSD.
When someone is dealing with PTSD, there risk of developing a substance use disorder disorder is much higher. Many people suffering from PTSD use drugs or alcohol to cope. They use these substances to help protect themselves from the psychological and emotional toll PTSD takes on them. They feel the substances are needed just to help them get through each day.
As a family member of a veteran, there are some substance use disorder and PTSD signs you could recognize. You should start looking for these signs when your loved one, friend, or even coworker comes back from their deployment. If you recognize any of the signs, it is important to encourage them to get treatment right away. Giving it time will only make things worse. The addiction or symptoms become even more severe. The more severe things get, the more difficult the treatment will be.
Some of the PTSD signs you should watch out for in your veteran parent, child, sibling, spouse, coworker, or friend include:
Flashbacks of the trauma they experienced
Nightmares that don't let up
Reliving the trauma with smells, sight, sound, and more
Constantly avoiding things, places, situations, and people that trigger flashbacks
Constantly tense, on edge, or fearful
Difficulty sleeping
Difficulty concentrating
Some of the substance use disorder signs you should watch out for include the following:
Making excuses to use drugs or drink alcohol
Taking more alcohol or drugs to get the effect they used to
Getting angry when someone mentions they should stop drinking or drugging
Being distant in academic, social, or even professional environments because of drug or alcohol use
Having less interest in hobbies or activities they once enjoyed
Experiencing withdrawal symptoms when not using drugs or alcohol for a period of time
Continues drugging or drinking despite any of the negative effects caused by doing so (losing their job, losing a relationship, or even going to jail)
If you notice any of these signs in a loved one, friend, coworker, or any other veteran, talk to them about getting professional help and treatment.
Remembering and Encouragement
Two of the things you may need to do if you have an addicted loved one or friend is to remember and encourage them. You should remember not to drink or use drugs while that person is around.  Don't get into arguments with that person either. Remember that dealing with PTSD and substance use disorder is about their fear of not having control. They have gone through trauma and they fear something similar could occur again. Create a stable and secure environment for your loved one or friend.  Be more mindful and aware of what they are dealing with. This could help reduce their risk of developing a more severe substance use disorder disorder and could minimize PTSD symptoms as well. With these two benefits of remembering and encouragement, you may just get them to open up to seeking the needed help.
Get as much education as you can on PTSD and addictions. Put yourself in their shoes and try to empathize with what they have experienced. Be there for your loved one or friend. Talk to them about how they are feeling and don't judge them. The support you give could mean the world to them. It could motivate them to get treatment.
Prescription Drug Addiction and Veterans
One of the main challenges when coming home is veteran drug addiction. So many veterans are abusing opioids and other drugs. Benzodiazepines are generally prescribed to veterans for treating insomnia or anxiety, but they are very addictive. These drugs can make the user extremely drowsy or relaxed, which is somewhat helpful when a veteran is in a constant state of helplessness or fear from PTSD. However, benzodiazepines have a high rate of abuse amongst, especially for those also dealing with a mental health illness.
The Department of Veterans Affairs is being more cautious about this. They are advising doctors and other medical staff against giving out prescriptions for benzodiazepines. Since there is such a high rate of addiction, especially amongst drugs like Xanax and Valium, doctors are more careful in prescribing them.
Soldier's Recall and the National Issue
Many doctors are calling veteran prescription addictions a national problem. They say that prescriptions for narcotic medications are far too high in the military and with veterans. These doctors do understand that veterans have more things to deal with than the majority of people, but putting them at risk for addiction is not the answer. When in the at war, some soldiers are given pain prescriptions and even Adderall to make sure they stay alert. When these soldiers began withdrawing, they get more prescription medications to get them over those as well.
A soldier that was profiled through the NPR (that had finished the final deployment with many medals and even the Bronze Star) talks about being dishonorably discharged due to failing the urine tests. He lost his marriage, couldn't get a job, and even had his house foreclosed on him as well. He got kicked out of his parent's house after taking money from them to get even more drugs. He couldn't get a sandwich shop job, even with 17 years of service and three deployments, because the shop's manager believed the PTSD would cause him to lose it.
The Department of Defense is trying to stop the high rates of opioid prescriptions given to combat veterans and other veterans as well, especially for those who have a higher risk of developing addiction or substance use disorder disorders. They are trying to increased training techniques, hire additional therapists, and review cases of people who have many prescriptions. Even with their efforts, there is still too many opioid prescriptions being given.
Traumatic Brain Injuries and Veterans
PTSD is often seen in veterans and is talked one of the main mental health illnesses amongst veterans. However, this illness is not the only problem soldiers from the battlefield face. Almost one-third of veterans who came back from Iraq or Afghanistan had some sort of traumatic brain injury.
Traumatic brain injuries happen after a hard hit to one's head. It has been shown that between ten and twenty percent of those who have a traumatic brain injury also become addicted to drugs or alcohol.
Sexual Assault Trauma and Veterans
One of the reasons why suicide rates is higher amongst those who have come back from combat is because of sexual assault. Not only that, but many sexual assault victims start abusing drugs or alcohol, which can worsen the depression and traumatic responses they have. It has been stated that 33% of those who have experienced any type of sexual assault will have suicidal thoughts or even act upon those thoughts. The truth is many soldiers are even assaulted by other soldiers. They live in fear of being discharged, so some never report it and continuing working with the person who assaulted them. If you have been affected by sexual assault, know there are resources available. One example is the Veterans Crisis Line. You can also find this resource at the bottom of this guide.
Knocking Out the Stigma Surrounding Treatment for Substance Use Disorder
Unfortunately, there is a stigma attached to substance use disorder. It is important that people know there are ways to better understand drug and alcohol use, addiction, treatments, and prevention methods as well. There are many programs that could help any veteran to avoid an addiction. The VA has many treatment methods such as aqua therapy and acupuncture. Some other ways to knock out the stigma are to:
Get family members and friends involved in the veteran's therapy sessions
Attend classes to learn about risks of using pain medications
Eliminate belief that substance use disorder means someone is failing
Stop seeing asking for help as a weakness
By knocking out the stigma surrounding treatment for substance use disorder and surrounding addiction itself, more prevention methods can be taken and more people who need it, can get help.
Veterans Helping Themselves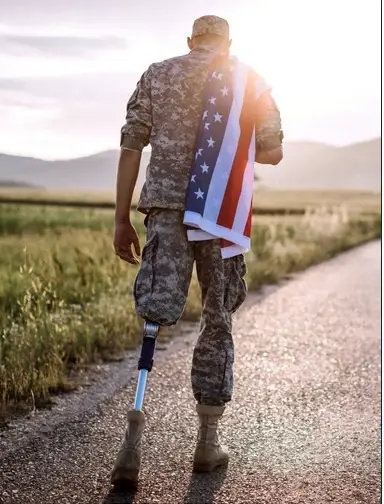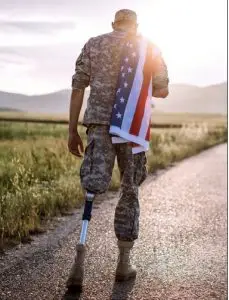 Coping with PTSD can be tough. However, veterans can help themselves, so they don't feel the need to self-medicate. They can build a support team, so they can talk to others who understand. It is recommended that these veterans create an exercise program to improve their mental health state. They could also get a therapy animal to have a true bonding experience as well. These are just some of the options for how veterans can help to improve their life after coming home.
Suicides and Soldiers
Substance use disorder, mental health illnesses, and the trauma experienced on the battlefield all wear down veterans. According to the VA, there were 20 veteran suicides a day during 2016. Statistics say that veterans are more likely than other civilians to commit suicide. Veterans are traumatized by all kinds of things including children dying in front of them, sexual assault, bombs, and much more.
Holding an Intervention
If you have noticed your family member or friend has displayed the signs mentioned above, you should take action very soon. At first you might mention it to your loved one or friend. They may shut you down immediately. They may even get clean and sober for a little while, but quickly go back to drugging or drinking. If either of these things happen, you may need to hold an intervention. You will do this to help the veteran and the other people in their life.
The intervention isn't about confronting your loved one or friend about their substance use disorder. It is a process that is planned out by people who are affected from the veteran's substance use disorder. They people calmly state how hurtful the veteran's substance use disorder is for them. Successful interventions also offer the veteran immediate and realistic plans for taking action. This may include a list of treatment center options or even meetings in the area.
Planning the Intervention
Before holding an intervention, it should first be planned. Interventions are very emotional for everyone that is involved. You may want to get a professional intervention specialist to help lead the intervention. They can help you figure out the best way to talk to your addicted loved one or friend, without demeaning that person.
Medical disclaimer:
Sunshine Behavioral Health strives to help people who are facing substance abuse, addiction, mental health disorders, or a combination of these conditions. It does this by providing compassionate care and evidence-based content that addresses health, treatment, and recovery.
Licensed medical professionals review material we publish on our site. The material is not a substitute for qualified medical diagnoses, treatment, or advice. It should not be used to replace the suggestions of your personal physician or other health care professionals.

A Message From Our CEO