The majority of Americans regularly spend at least some time online. According to one Pew Research Center study, only 7% don't use the internet.
For the remaining 93%, especially when it comes to adolescent and young adult users, a lot of alarm bells have been sounded on potential dangers to mental health. While no one can say with 100% certainty that too much time online can lead to depression, anxiety, and other woes, there is a fair amount of data that says too much social media isn't so good for everyone's well-being.
Making it all the trickier is that there are so many social media options, giving people several platforms from where they can post updates, send messages, and share photos and videos.
How Social Media Impacts Mental Health
Social media's not all bad.
It gives people a chance to communicate, pursue interests, and share ideas and information. In some cases, it can help people make friends and develop relationships.
Some minority groups find it can be a place to find support and share ways to cope.
For others, the silver lining is tarnished.
There does seem to be a pretty strong link — for teens in particular — that the more time a person spends on social media the higher the likelihood of depression, self-harm, or simply being unhappy.
When miscommunication occurs or the experience does not live up to expectations, then some people can feel more isolated. Others fear they may be replaced if they can't be reached, or if they don't react quickly enough or with enough enthusiasm.
The Pitfalls of Social Media
One 2019 study looked at social media, television, video gaming, and computer use. It found that among adolescents, every extra hour on social media amounted to an increase in depressive symptoms.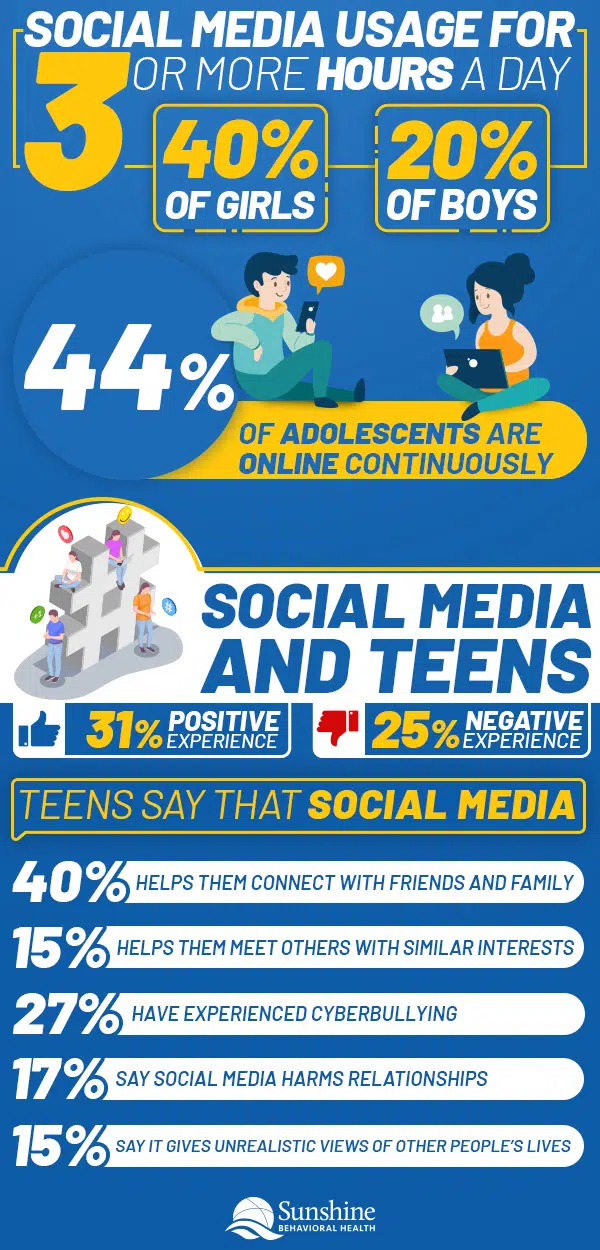 The study suggested three potential reasons for the depressive effect:
Displacement hypothesis: Here, screen time has a bad effect on mental well-being because it replaces the time that would be spent doing something healthier, like exercise. One study estimated the average Facebook user spent nearly an hour every day on the site.
Upward social comparison: Viewing a profile where someone appears to have a much more satisfying life can spark feelings of lower self-esteem among some (but not all), which in turn can fuel depression. Some call that "Facebook envy". (There also are theories that viewing profiles or posts of people in worse circumstances can also trigger sadness.)
Reinforcing spirals: Here, a person with depression may seek out more depressive content, hence reinforcing their negative feelings.
Many teens (and some adults) also experience fear of missing out (FoMO), worrying that if they miss something it'll hurt their personal relationships, that they'll be replaced by someone more accessible. Seeing a post about a gathering they weren't invited to can leave them feeling left out and disconnected. It can be incredibly painful to a person with low self-esteem.
Cyberbullying
Cyberbullying is another problem surrounding social media use. About 15% of high school students have experienced cyberbullying. Some estimate the rate to be slightly higher, or approximately one in six being abused online. Among those polled, the following percentages said they'd experienced:
Name-calling – 42%
Being the subject of rumors – 32%
Unsolicited explicit images – 25%
Being tracked by someone other than a parent – 21%
Physical threats – 16%
Explicit images of them shared without consent – 7%
Besides sparking feelings of isolation, depression, and anxiety, many of those actions can be illegal, too, depending on variables and in what jurisdiction it occurs.
Signs Social Media Is Impacting Mental Health
There's a condition that's been mentioned more often in recent years: social media anxiety disorder (SMAD). It's not formally recognized according to the Diagnostic and Statistical Manual of the American Psychiatric Association (DSM-5), the bible for diagnosing mental disorders. Not yet, at least.
One therapist warns that "it's risky to compare your insides to someone else's outsides." That's one of the dangers of SMAD. It's not healthy to measure self-worth on the number of views or likes (or lack thereof) a post receives.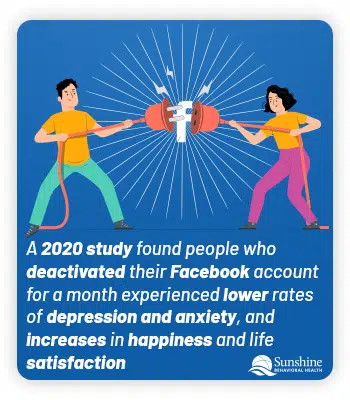 Those "likes" and retweets have been compared to the high that follows taking a drug. It lights up those same reward centers in the brain. In turn, the brain likes the feeling and wants more. Going without that reinforcement can lead some to feel on edge and lost.
Signs a person may have a SMAD include:
Checking your phone (or other devices) in the middle of a conversation
Placing more importance on your phone over family and friends
Spending more than six hours a day on social media
Lying about how much time is devoted to being online
Trying to reduce the amount of online time and failing
Neglecting or losing interest in school, work, or hobbies
Experiencing anxiety when cut off from devices
Having an urgent need to post online or check your phone
Social Media and Depression
It's not entirely clear why social media may fuel depression. The displacement hypothesis, upward social comparison, and reinforcing spirals may be factors. They may tie in neatly with low self-esteem.
It's also been well documented that electronic devices can disrupt a person's sleep. One survey found approximately four in 10 Americans bring their cell phones to bed. Teens and young adults are especially guilty of this. These devices can inhibit melatonin production, which is a hormone our bodies produce that helps us fall asleep.
That disruption can interfere with getting some solid shut-eye. That, in turn, can contribute to anxiety, depression, memory loss, and poor grades or work performance.
If a person experiences lingering anxiety, it can lead to nausea, headaches, and muscle tension.
There's also a concern that mental disorders can contribute to substance use disorder, or even substance use disorders. Such co-occurring disorders have been well documented, and it's especially risky for younger populations. They are more vulnerable since their brains continue to develop into their mid-twenties. Substance use disorder can interfere with the parts of the brain governing impulse control, decision-making, and how a person responds to stress. That can make anxiety or depression grow worse. It can also make drug and alcohol addiction (as well as its resulting health dangers) more likely to take hold.
Smartphones and similar devices also can cause a person's brain to flood with feel-good neurotransmitters like dopamine, making it difficult for some people to resist.
Tips for Healthy Social Media Habits
One 2020 study found that people who deactivated their Facebook account for one month reported higher levels of happiness and life satisfaction and lower levels of depression and anxiety.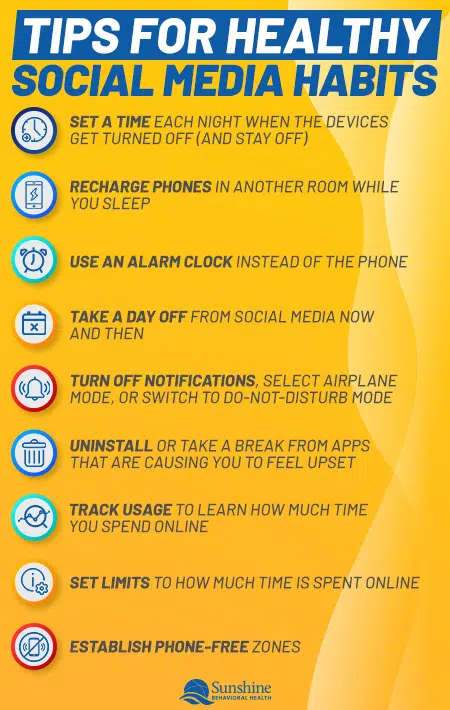 Anyone (children, teen, or adult) who finds social media usage is turning problematic may want to consider:
Setting a time each day (or night) when the devices get turned off (and stay off)
Recharging phones in another room while you sleep (since many people report checking their phones in bed, in the middle of the night)
Using an alarm clock instead of the phone
Regularly taking a day off from social media
Turning off notifications, or selecting airplane mode or do-not-disturb settings so you're not compelled to check every time the phone alerts
If using an app makes you feel upset, uninstall it or take a breather; realize that things often look better online because the poster chose the most positive or flattering images and content
Tracking your usage to discover how much time you spend online
Establishing phone-free zones around the home or other places
Setting limits on how much time is spent online
Parents may wish to consider the following to ensure their children and teen's online activity isn't affecting their mental health or detracting from schoolwork, socializing, or family time:
Monitor your children's online activity. Watch where and what they post
Understand that it's easy for anyone to be spied on and that it's nearly impossible to completely scrub anything that's been posted online
Set guidelines and limits, and stick to them
Taking the phone away entirely can backfire. Setting limits tends to be more productive
Be a good role model with your own usage and habits. Engaging in physical activities in the physical world is another way to set a good example
Work with your teen. Being controlling will not build trust. Dialogue and collaboration tend to work better
Teachers can also play a key role in helping promote healthy social media habits by:
Knowing the signs of harmful social media use. Many students who are overly dependent on social media or online activity struggle to interact with others in person
Encouraging positive person-to-person activities
Showing examples of positive social media use and steering students away from negative patterns
Teaching proper social media skills. There are programs that encourage engagement and teach online do's and don'ts. It's also an opportunity to teach about cyberbullying and other risks that accompany going online
Where to Get Help
If you are in crisis or in need of mental health help, consider one of the following.
Sources

Medical disclaimer:
Sunshine Behavioral Health strives to help people who are facing substance abuse, addiction, mental health disorders, or a combination of these conditions. It does this by providing compassionate care and evidence-based content that addresses health, treatment, and recovery.
Licensed medical professionals review material we publish on our site. The material is not a substitute for qualified medical diagnoses, treatment, or advice. It should not be used to replace the suggestions of your personal physician or other health care professionals.

A Message From Our CEO