A cancer diagnosis is challenging for patients, their families, and their medical providers and caregivers. Knowing that life is changing forever is a major shock.
It's normal to feel emotions such as anxiety, depression, and distress. This can be compounded by the changes that happen at work or home as well as by the introduction of medical care into a person's normal daily life.
What Are Some Common Physical Challenges for a Person Diagnosed with Cancer?
Side effects from treatments can cause serious physical and emotional symptoms. It's important that people receive care for the side effects they face as well as for cancer itself. Some of the most common physical side effects of cancer and treatments such as chemotherapy include:
Chemo brain: mental changes that could make thinking, learning, concentrating, and remembering more difficult
Fertility and sexual concerns
Fever
Hair loss
Changes in eating/drinking behaviors
Shortness of breath
Trouble swallowing
Weight changes
Weakness and fatigue
Seizures
Urinary problems
Sleep problems
Pain
Infections
Cramps
Low blood count
Lymphedema (swelling of the arms or legs to due to damage or removal of the lymph nodes)
Appearance-related side effects, such as changes in skin color
Physical changes can make someone feel sick or unwell. A person with cancer may be weak or not like how they look as a result of the disease or from side effects of their medications. These issues can lead to mental health concerns in addition to the trauma of experiencing a serious medical condition.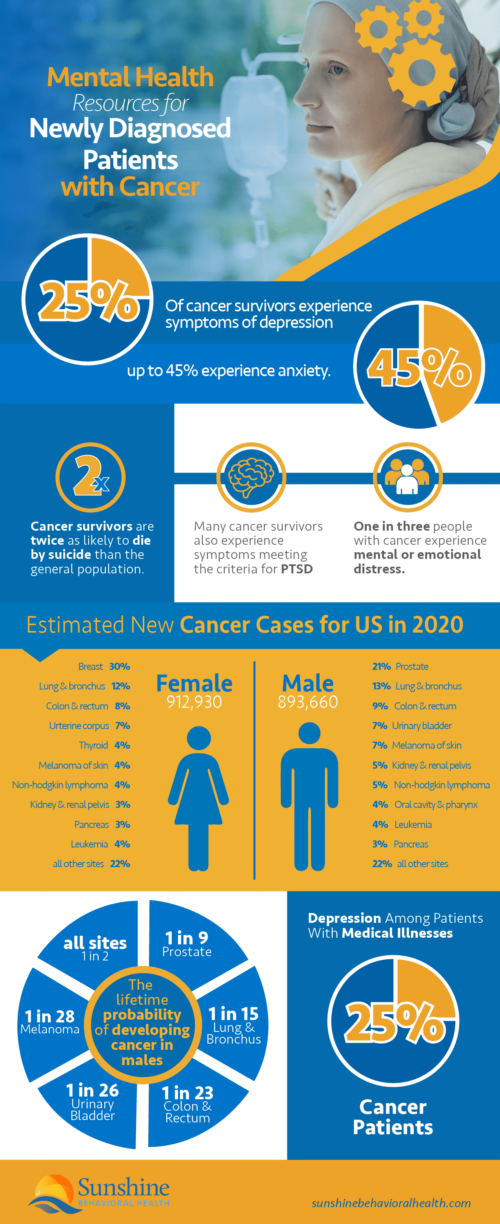 What Are Common Mental Health Challenges People with Cancer Face?
Did you know that as many as 25% of people who have survived cancer experience depression, and up to 45% of cancer survivors struggle with anxiety? The National Behavioral Health Network states that many people who survive cancer meet the criteria for post-traumatic stress disorder (PTSD). Those who survive are around twice as likely to commit suicide as the general public.
People who have cancer may struggle with their mental health because of the impact of the disease and the medical treatments they require. They may also have mental health challenges because the disease has affected their personal lives or work.
Some of the most common mental health challenges include changes in the way people think due to chemotherapy or medications, anxiety, depression, and distress.
Anxiety
Anxiety is a condition that causes you to feel worried, scared, or uncomfortable. It is normal to have generalized anxiety after a cancer diagnosis. Even finding signs of cancer without a diagnosis could cause extreme anxiety for some people.
Symptoms of anxiety include:
Shaking
Trembling
Dry mouth
Angry outbursts
Irritability
Anxious expressions
Uncontrolled worry
Muscle tension
While these symptoms are uncomfortable, they're also manageable. People who are experiencing anxiety can speak with their medical team or caregivers about their feelings, try therapy, or investigate medications.
Depression
Depression is another common mental health issue that accompanies cancer diagnoses. It can make it hard to function and make it difficult for people to follow the cancer treatment plan designed by your medical team.
Many people think of depression as feeling sad or blue, but feeling sad isn't all depression is. Depression may cause other symptoms, including:
Mood swings
Extreme tiredness
Loss of interest in activities
Changes in sleep patterns
Hopelessness
Guilt
Feelings of worthlessness
Trouble focusing
Depression can cause poor appetite, changes in sleeping behaviors, and exhaustion, so it must be addressed. People need to have good nutrition and rest to help with their recoveries.
Distress
Like anxiety and depression, emotional distress can affect several aspects of a person's life. Distress may change the way a person makes decisions or how they address their health.
Someone who is in emotional distress over their condition may have trouble focusing on their treatment or taking the medications they've been prescribed. Some may struggle to make follow-up appointments or may feel as if their lives are out of control.
Some of the symptoms of distress that may affect patients or their family members include:
Feeling out of control
Anger
Hopelessness
Persistent concerns about illness
Anxiety
Depression
Panic
Withdrawal from others
Loss of purpose in life, or feeling unsure of their meaning or faith
Fear
Sadness
A certain amount of emotional distress is common, especially when a cancer diagnosis is new or a condition is recurring or worsening. The uncertainty of treatments or whether people could recover may also be distressing.
If people have cancer, they might wonder what will happen to their bodies, to feel unsafe or weak, or to worry about how they're going to cope with their daily activities in addition to cancer.
They may have fears about the future or be angry that this is happening to them. Those feelings are common, and they're reasonable.
Some parts of treatment or the experience of having cancer could create more distress than others. For example, someone who is waiting for treatment or starting a new treatment may be extremely anxious. Someone nearing death may be fearful or angry.
These feelings are common and natural, but sometimes, the distress might be too much. If distress makes it hard to function or cope, speaking with professionals and caregivers is important. There are options for relieving stress.
Changes in Thinking
As a side effect of some medications, chemotherapy, or cancer itself, some people with cancer experience changes in their thinking patterns. They may have mood swings, trouble with their memories, or other issues with the way their brains transmit messages or translate information.
How Are Families Impacted by a Cancer Diagnosis?
Cancer diagnoses can significantly impact families. How they're affected depends on the patient, the treatments that are needed, the likelihood of recovery, and other factors.
In some families, the person with cancer is a breadwinner or a parent. That can mean financial difficulties or family members who suddenly switch roles, such as children who have to step up to support their parents through difficult illnesses.
Other times, cancer can throw off a family's routines. For example, a spouse that once went to work may now need to attend regular, routine appointments for treatment. Their spouse may miss work or have to adjust their schedule to become a caregiver.
The overarching reality for many families who have loved ones with cancer is that they experience heightened amounts of stress, anxiety, distress, and depression. It is not unusual for caregivers to become overwhelmed, which is why there are programs to assist caregivers in their time of need as well.
For patients who are struggling financially, the good news is that there are many ways to cover the cost of treatment. Health insurance policies often cover many expenses related to a cancer diagnosis, but high deductibles or out-of-pocket expenses may still exist.
Local support programs, such as those through the American Cancer Society, may have programs to help patients cover the cost of their care when they cannot afford it.
Can Self-Care Help Families and Individuals Deal with a Cancer Diagnosis?
Self-care is extremely important for those with cancer as well as their loved ones and caregivers. Rest, nutrition, and physical activity can help minimize the side effects of chemotherapy and other treatments, for example.
Caregivers in particular need to focus on self-care. They may not be familiar with the responsibilities of caring for someone who is unwell and it can be exhausting. Since these individuals will be providing much of the care that the patients need, it's important that they receive care as well.
Most cancer treatments occur in outpatient settings, so caregivers are usually responsible for overnight and day-to-day assistance. For those who are feeling overwhelmed, hiring a home health aide or companion for a few hours a day may provide much-needed help.
For others, online support programs such as the National Cancer Information Center or Reach to Recovery could provide the community of support needed to answer questions and assist with other concerns.
Preparing for End of Life Care
Preparing for end-of-life care is also emotional for families and for patients. Many patients are still healthy enough to understand that their lives are ending, which is traumatic not only for them but also for their loved ones.
At the end of a patient's life, having access to services such as hospice care and setting up advance directives about end-of-life decisions could help.
Understanding Hospice Care
Hospice care provides comfort and compassion to people in the last phases of a terminal illness. The goal is to provide as much comfort to patients as possible, so they can live the fullest life possible until the end.
Typically, hospice care occurs for six months or fewer as an illness runs its natural course. In advanced cancer patients, hospice may start earlier to assist the patient in managing pain levels and discomfort.
It is a good idea for people to talk with their medical providers and families about hospice care if they have terminal illnesses. When there are no more treatment options available or if treatment stops working, hospice care may be the next step.
What Is an Advance Directive?
An advance directive is a legal document that lets a patient's health care provider know their end-of-life wishes. It may discuss the kind of medical care that they do or do not want if they can no longer verbalize what they'd like themselves.
There are different types of advance directives such as:
POLST forms (Physician Orders For Life Sustaining Treatment forms)
Do Not Resuscitate orders
A durable power of attorney of health care/medical power of attorney/health care proxy
Each of these works a little differently. Since advance directives are legal documents, it may be advisable to speak with an attorney while creating one. Sometimes, these forms are available at hospitals or other medical facilities.
Mental Health Support Is Essential for People with Cancer and Their Families
Mental health support is essential for people with cancer and their families. There are several ways to find such support, such as:
Participating in cancer survivor group meetings
Attending individual therapy or family/couples therapy
Calling or texting hotlines to share one's concerns
Going online to participate in forums, social media platforms, or comment sections to talk
Managing the psychological effects of a cancer diagnosis can improve the chances of survival. Researchers studying people with metastatic breast cancer found that decreases in depression symptoms were associated with longer survival rates.
Other studies have found that mindfulness-based stress reduction (MBSR) techniques might help improve the mental health of people with cancer, but scholars say that more research is needed on the topic.
Mental health matters. Although a cancer diagnosis and living with the disease can be frustrating, scary, and overwhelming, reaching out and seeking mental health support are healthy ways to face such times.

Support for Cancer Patients and Their Families
According to the National Behavioral Health Network, "one in three people with cancer experience mental or emotional distress." This is most common for those with head and neck or breast cancer, but any person can be affected.

There are many programs and services that offer support to people who have been diagnosed with cancer or who know someone who has recently received a diagnosis.

Below is a list of programs that can provide additional information to help answer questions about cancer, cancer treatment, mental health concerns, and other issues.

This list is not all-inclusive, but it includes a number of resources that can help people find more information.
Sources

Medical disclaimer:
Sunshine Behavioral Health strives to help people who are facing substance abuse, addiction, mental health disorders, or a combination of these conditions. It does this by providing compassionate care and evidence-based content that addresses health, treatment, and recovery.
Licensed medical professionals review material we publish on our site. The material is not a substitute for qualified medical diagnoses, treatment, or advice. It should not be used to replace the suggestions of your personal physician or other health care professionals.

A Message From Our CEO