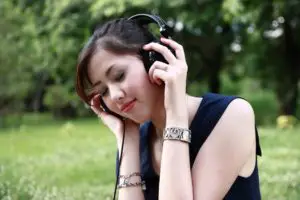 20 Songs about Recovery from Addiction
No matter what's happening in life, for many of us, the right song can set the stage, make us feel uplifted and excited, and help us get through some really tough times.

Music can have an impact on a person's mood and focus. Various studies and surveys have examined the psychological functions of listening to music. Scholars have determined that people enjoy listening to music because it can regulate their mood.

Researchers have also found that music can help listeners achieve self-awareness and express their social relations. The researchers have determined that music helps to:
Remind people of certain periods in their lives.

Encourage listeners to think about their identities.

Help people believe that they can cope with their worries.

Assist people in understanding their thoughts and emotions.

Aid people in feeling comfortable.

Allow listeners to express themselves and convey their feelings.

Induce visual imagery and create dreams.
Generally, music often helps people relax and create a good atmosphere. Musical artists might assist people who might be battling depression or alcohol addiction. They can use their self-expression to create supportive atmospheres for their listeners.
Music Therapy – An Effective Way to Battle Depression
Whether it is happy or sad music, research indicates that music can positively affect the brain. The music and lyrics sometimes reflect what listeners are feeling and what they are trying to overcome. The melodies and lyrics can create powerful moments of self-reflection and self-rediscovery. So, when a sad song makes people cry, it helps listeners let go of suppressed emotions and release pent-up tension, which creates a feeling of relaxation.
Musical artists can help improve the mood of listeners who struggle with depression. Because of music's positive effect on people's health, some drug abuse rehab facilities are incorporating music therapy sessions as part of the complementary and alternative medical (CAM) practices they offer. A 2014 study found that 36.8 percent of treatment programs offered art therapy and 14.7 percent of programs offered music therapy.
Artists who have struggled with substance use disorder have also found refuge in music therapy. A study published in 2017 explored how musicians found music to be a form of self-therapy.
Here are twenty songs about recovery that address drug or alcohol abuse or how people can find the strength to deal with addiction, fear, loss, grief, or defeat. They explore substance abuse and other problems and how people can overcome them.
#1. "Bad" by U2
U2 first released the song "Bad" in 1984 on the album The Unforgettable Fire. U2 lead vocalist Bono (Paul David Hewson) wrote this song about recovery from heroin addiction. Its stark lyrics reflect the anguish of the problem.
This desperation
Dislocation
Separation, condemnation
Revelation in temptation
Isolation, desolation
Let it go and so to fade away
#2. "Sober" by Pink
Pink's song "Sober" appeared on her album Funhouse, which was released in 2008. Pink has discussed her past struggles with drug use. The lyrics of "Sober" reflect anguish.
When it's good, then it's good, it's so good 'till it goes bad
'Till you're trying to find the you that you once had
I have heard myself cry, never again
Broken down in agony just tryin' to find a friend
The same song also has hopeful lyrics that depict someone who wants to triumph over adversity. The song is thus about addiction as well as recovery and hope, making this part of the perfect playlist for songs about recovery.
Oh, I am finding
That that's not the way I want my story to end
#3. "Recover" by Natasha Bedingfield
Bedingfield's "Recover" can inspire anyone who feels lost or is grieving. The song was released in 2010 and appears on Bedingfield's album Strip Me.
We will recover
The worst is over, now.
All those fires we've been walking through
And still, we survive, somehow
#4. "Breaking the Habit" by Linkin Park
Linkin Park released "Breaking the Habit" in 2003. It is from the album Meteora. Written by the band's co-founder, Mike Shinoda, the song won the Viewer's Choice Award at the 2004 MTV Video Music Awards.
I don't know what's worth fighting for
Or why I have to scream
I don't know why I instigate
And say what I don't mean
I don't know how I got this way
I'll never be alright
So I'm breaking the habit
I'm breaking the habit tonight
#5. "The A Team" by Ed Sheeran
Ed Sheeran released the song "The A Team" in 2011. The song tells the story of a girl the artist met at a homeless shelter. In 2017, Sheeran admitted his struggles with substance abuse.
And they scream
The worst things in life come free to us
'Cause she's just under the upper-hand
And goes mad for a couple of grams
But she don't want to go outside tonight
'Cause in a pipe she flies to the Motherland
#6. "Recovery" by James Arthur
James Arthur's "Recovery" was released in 2013 as part of the artist's debut studio album, James Arthur. The singer has been honest about his addictions to drugs and sex.
In my recovery
I'm a soldier at war
I have broken down walls
I defined
I designed
My recovery
#7. "Not Afraid" by Eminem
Eminem's "Not Afraid" was released in 2010 as part of the album Recovery. Eminem's manager Paul Rosenberg said the song has a positive message and illustrates the artist's shift in direction. Instead of discussing violence and drugs, the album mainly features songs about recovery and hope.
I'm breaking out of this cage
I'm standing up, I'mma face my demons
I'm manning up, I'mma hold my ground
I've had enough, now I'm so fed up
Time to put my life back together right now (now)
#8. "Sober" by Kelly Clarkson
"Sober" by Kelly Clarkson appears on the artist's studio album My December. The song was released in 2007 and received favorable reviews.
Nothing's real
Until you let go completely
So here I go with all my thoughts I've been saving
So here I go with all my fears weighing on me
#9. "Starting Over" by Macklemore & Ryan Lewis
The song is from the duo's album The Heist, which was released in 2012. Macklemore (Ben Haggerty) is an artist who has documented his addiction, recovery, and relapse in a number of his songs.
We fall, so hard, now we gotta get back what we lost, lost I thought you'd gone, but you were with me all along, along
#10 "Fight Song" by Rachel Platten
Rachel Platten's "Fight Song" was released in 2014 and appears on the album of the same name. The song received a Choice Summer: Song nomination at the Teen Choice Awards and earned a nomination for Top Selling Song at the Billboard Music Awards. It is a popular anthem about finding strength and is a well-suited addition to this list of songs about recovery.
This is my fight song
Take back my life song
Prove I'm alright song
My powers turned on
Starting right now I'll be strong
#11. "Semi-Charmed Life" by Third Eye Blind
Third Eye Blind released the song "Semi-Charmed Life" in 1997, becoming a major hit. The lyrics of the song discuss the use of crystal meth. Lead singer Stephan Jenkins said the song was about falling apart despite having an outwardly promising life.
Doing crystal meth 
Will lift you up until you break It won't stop 
I won't come down, I keep stock 
With a tick-tock rhythm and a bump for the drop 
And then I bumped up 
I took the hit I was given 
Then I bumped again 
And then I bumped again
#12. "Toy Soldier" by Martika
Martika's song "Toy Soldier" was released in 1988. The artist wrote the song to tell the story of a friend who was battling cocaine addiction.
It's getting hard to wake up in the morning
My head is spinning constantly
How can it be?
How could I be so blind to this addiction?
If I don't stop
The next one's gonna be me
#13. "The Needle and the Damage Done" by Neil Young
This Neil Young song first appeared on the album Harvest in 1972. Its lyrics were inspired by the destruction created by a friend's heroin overdose.
I've seen the needle and the damage done A little part of it in everyone But every junkie's like a settin' sun
#14. "Life Wasted" by Pearl Jam
The song was released in 2006 on the band's album Pearl Jam. This song work in our playlist of songs about recovery since it explores death and rebirth and is about the death of the lead singer Eddie Vedder's friend.
I have faced it, a life wasted. 
I'm never going back again. 
I escaped it, a life wasted.
 

#15. "We Are All on Drugs" by Weezer

The song was released in 2005 on the album Make Believe. This song fits within these songs about recovery since it discusses substance abuse and addictions to gambling, relationships, and the Internet, among other things.

And the best of your days Will all vanish in the haze When you're on drugs
#16. "Fight Like a Brave" by the Red Hot Chili Peppers
This song about recovery was released in 1987. It depicts lead singer Anthony Kiedis's battle with heroin addiction. Kiedis wrote the song to discuss his struggles and how he overcame them.
Fight like a brave
Don't be a slave
No one can tell you 
You've got to be afraid
#17. "Interstate Love Song" by Stone Temple Pilots
This song about recovery was released in 1994 as part of the band's album Purple. Lead singer Scott Weiland wrote the lyrics. He later explained that he was having relationship troubles and was using heroin while the band was recording the album.
Breathing is the hardest thing to do
With all I've said and all that's dead for you
You lied 
Goodbye
#18. "Captain Jack" by Billy Joel
Billy Joel's "Captain Jack" describes the effects of drugs on teenagers. The song was released in 1973 and appears on the album Piano Man.
And if you can't understand why your world is so dead 
Why you've got to keep in style and feed your head 
Well, you're 21 and still, your mother makes your bed
And that's too long
#19. "The Drugs Don't Work" by the Verve
"The Drugs Don't Work" was released in 1997 and is part of the Urban Hymns album. The Verve's lead singer, Richard Aschcroft, said the song's lyrics relate to his drug usage.
Now the drugs don't work They just make you worse< But I know I'll see your face again.
#20. "Salvation" by the Cranberries
The Cranberries' "Salvation" was released in 1996 as part of the album To the Faithful Departed. The song talks about drug abuse and why one should avoid it.
To all the kids with heroin eyes
Don't do it, don't do it
Because it's not, not what it seems
No, no it's not, not what it seems
Many of these songs about recovery indicate that while addiction is common, it is possible to recover and live a healthy life. If you or a loved one struggle with addiction, there is always help out there.

A Message From Our CEO
Medical disclaimer:
Sunshine Behavioral Health strives to help people who are facing substance abuse, addiction, mental health disorders, or a combination of these conditions. It does this by providing compassionate care and evidence-based content that addresses health, treatment, and recovery.
Licensed medical professionals review material we publish on our site. The material is not a substitute for qualified medical diagnoses, treatment, or advice. It should not be used to replace the suggestions of your personal physician or other health care professionals.