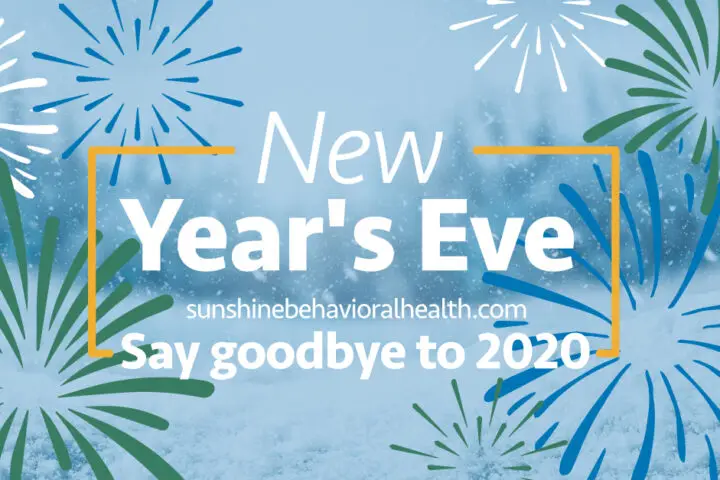 New Year's Eve 2020 — How Things Are Different This Year
As this tumultuous year draws to an end, it's going to be tempting to gather with huge groups of friends, attend massive parties, and go all-in with celebrations, but many experts are advising against it.
They warn that COVID-19 and the pandemic are not dead. Far from it, in fact. So, how do you manage to have a good time, celebrate the end of this awful year, and still stay healthy and safe?
Is it even possible to celebrate a new year and stay safer and healthy? According to the Centers for Disease Control and Prevention, it is. And no, you don't have to stay home (although, that's always the safest route).
Staying home is the safest
If you're the type that would rather stay home, then you likely will have fewer worries about your health. As long as you're staying with those in your household or meeting with a few people (and taking precautions such as wearing masks and staying at least six feet away), your risks of contracting COVID-19 should be lower.
Keep your group small (ten people or fewer, or follow the recommendations of your local public health officials) and limit the number of people that will be meeting in-person at the same time. This can ensure that you're not risking your health and the health of others by having large gatherings.
Or, you can use Zoom or similar virtual meeting options to be together without being in the same space. This can be a fun way to stay connected without worrying about the risks of getting sick or making others sick.
If you're thinking about going out
If you're planning to go out to celebrate the New Year, you can be safer, but it's going to take a bit more work than usual. A few simple steps can make all the difference in how much fun you have and how safe you'll be.
Wear a mask. Whenever you're in public, consider wearing a mask, even if laws don't require you to wear one. If you're in a situation where you might not be able to stay six feet apart from others, you should especially wear a mask. When dealing with crowds, wear a mask covering your nose and mouth.
Stay at least six feet apart. It might seem tough, but staying at least six feet apart from people who aren't in your household is essential. If you're outdoors, you might be safer from the disease, but still stay at least six feet away from others and still consider wearing a mask.
Stay home if you don't feel well. It's important to know that anyone can have mild coronavirus symptoms, so if you're not feeling well, even if it seems like you might just have a little cold, or feel a little off, it's a good idea to stay home and skip the celebrations. You might not be sick, but you could make others sick with a cold or something potentially more dangerous.
Avoid drinking in excess
As is the case with every New Year's Eve, people might be drinking a great deal. Given the difficulty of this year, people might want to drink even more. Drinking at any time can be dangerous, but drinking during a pandemic can be especially dangerous for many reasons.
The World Health Organization (WHO) says that drinking alcohol could actually worsen complications from the coronavirus that causes COVID-19 worse. In addition, drinking in excess during any time can put people at risk of contracting many other communicable diseases or engaging in risky behaviors, which may now include not wearing masks or standing closer than six feet apart from others.
Many mental health experts also worry that this year in particular is risky because of the rise of mental health issues that the pandemic has caused.
Depression, anxiety, and fear have caused many people to drink or drink more in the face of this global health crisis. In fact, alcohol consumption in the United States is up 14%, and heavy drinking for women has increased 41%.
These numbers seem to set the stage for many more cases of alcohol abuse and addiction, and this is concerning for many experts. For this reason, they are recommending that if you have a problem controlling your alcohol consumption, you should seek treatment right away, and even if you don't, you should avoid setting the stage for a potential dependence on alcohol by greatly reducing the amount of alcohol that you drink at any time, not just on New Year's Eve.
While the New Year's Eve celebrations of 2020 might look a lot different than they did last year, you can still have a wonderful time ringing in 2021. No matter how you do it, enjoy saying goodbye to this difficult time and looking forward to a new, healthy year to come.
Sources
cdc.gov – New Year's Eve
cdc.gov – Symptoms of Coronavirus
cnbc.com – Drinking Alcohol Can Make the Coronavirus Worse, the WHO Says in Recommending Restricting Access
usatoday.com – Drowning Our Sorrows? American Adults Are Drinking More Alcohol amid COVID-19, Study Finds
sunshinebehavioralhealth.com – Inpatient Alcohol Rehab | Alcohol Rehab Facilities

A Message From Our CEO
Medical disclaimer:
Sunshine Behavioral Health strives to help people who are facing substance abuse, addiction, mental health disorders, or a combination of these conditions. It does this by providing compassionate care and evidence-based content that addresses health, treatment, and recovery.
Licensed medical professionals review material we publish on our site. The material is not a substitute for qualified medical diagnoses, treatment, or advice. It should not be used to replace the suggestions of your personal physician or other health care professionals.