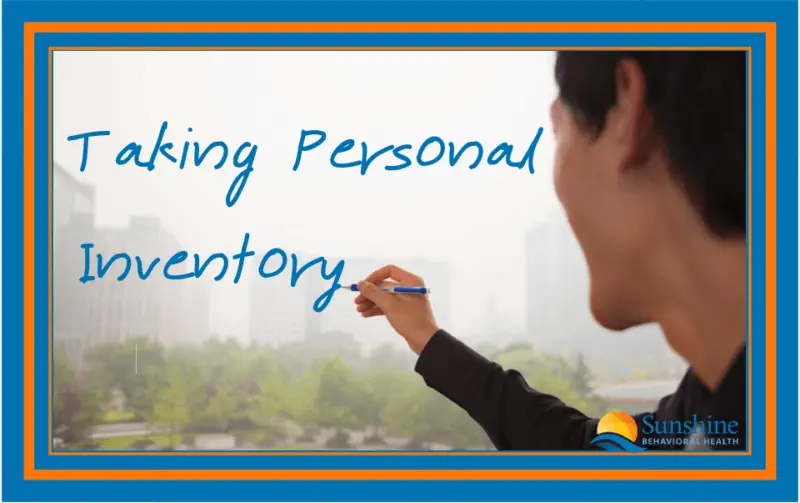 Some tools and programs learned in inpatient rehab might assist when entering recovery from addiction. Many recovering addicts have had great success with 12-step rehab or programs that use a series of twelve steps to address addiction and support people in recovery. The programs give people guides and plan to work on their recoveries.
Each step can help people recover from addiction in different ways. One important step is step ten. This step requires people to take a personal inventory to determine what they've done in the past, what they're doing currently, and what they want to do in the future.
"Continued to take personal inventory and when we were wrong promptly admitted it."
This is the tenth step in many 12-step recovery programs. It can take some time to work through this step (a process known as working a step). For many recovering addicts, continuing the recovery process is difficult. Remember that recovery is not a one-time process. It is lifelong. Continuing to take personal inventory can help you to stay clean and sober. It can help guide you in the best direction.
Admitting when you are wrong is another very important part of step ten. If you can't admit when you are wrong, it can take a huge toll on your mental state. It can also create big problems in your relationships as well.
What Does Step Ten Suggest?
Learning from past mistakes may be one of your main goals as a recovering addict. Working step ten requires you to keep taking your personal inventory. If you make mistakes, working to correct things can go a long way toward your recovery.
For some in recovery, spirituality is a huge part of their 12-step programs. They feel that if you become spiritually strong, you can better understand what it takes to stay clean and sober. They feel that spirituality aids their recovering lifestyles.
Recovery doesn't happen in one day. It's a continuing process full of ups and downs. Step ten suggests you keep an eye out for fear, anger and resentment, dishonesty, and selfishness. If these emotions arise, address them as soon as you can. Quickly make any amends that you need to make. By eliminating negative thoughts, you can help others and yourself. You can encourage tolerance and love, which are also part of the twelve steps.
What Is the Purpose of Step Ten?
While working on steps one through nine in a 12-step program, you may have examined your actions and thoughts. You may have seen how others responded to such thoughts and actions.
Gaining such awareness is an essential part of the recovery process. Step ten has a major purpose; taking personal inventory is just part of it. It also teaches that you can control your life. You aren't a robot or a slave to alcohol or drugs. Making this realization can create better recovery.
How Do You Work Step Ten?
It is not always an easy process to understand step ten. While you might be aware of what you are doing, taking personal inventory and being able to admit your wrongdoings can be tough. This step means that you are holding yourself responsible. Claiming responsibility is important to your recovery, but it is sometimes easier said than done.
It might be helpful to see an example of how to work step ten. Think about this scenario:
You are driving down the highway, and another driver cuts in front of you. You become angry and start yelling. As you start yelling, you realize that your angry outburst isn't helped the other driver. It may be better to react more healthily. Instead of yelling, you put a smile on your face and keep driving. Responding to stressful situations with grace instead of anger may signify that you're working on step ten.
How Do You Continue with Step Ten?
As mentioned above, the recovery process isn't just something people do once and then permanently finish. You need to continue working your recovery through step ten. This step requires you to take personal inventory and take frequent reviews of yourself. Try to take daily opportunities to examine yourself and what's happened. You could ask yourself whether you faced fear, dishonesty, or resentment throughout the day. Do you need to apologize to anyone? Is there something you can do even better the next day?
Throughout the review, be sure you don't slip into unhealthy thinking, such as succumbing to more fear or worry. You shouldn't keep criticizing yourself for the same things. This step helps you become more aware of your words and actions and their consequences. Taking personal inventory allows you to review your state of mind. It allows you to continue traveling down the right path.
You should also take periodic reviews. These assessments may be quite similar to your daily ones. Perioidic reviews require you to look back on more than just the current day. You might examine the past month or the previous few months. Every year, you may want to consider scheduling periodic reviews as well. This could help you change your mindset or take appropriate action. For example, if there is a promise you didn't keep that year, you can take action to make things right.
Why Is Step Ten So Important?
Step ten allows you to keep your mind and life clean. You don't need to be perfect, nobody is. However, being able to solve conflicts before they become big problems may keep your recovery stable. Step ten allows you to stick to your commitments and think and act in healthier ways. Succeeding in step ten demonstrates that you are striving to be the best possible version of yourself.
Programs such as Alcoholics Anonymous and Narcotics Anonymous may help you build a strong foundation for a recovering lifestyle. You can turn from addictive ways and create a positive recovery. Each of the twelve steps gives you a stepping stone to living a better lifestyle. Do you need to overcome an addiction? Is it time to take your personal inventory? If so, consider seeking help from a 12-step rehab program today.

A Message From Our CEO
Medical disclaimer:
Sunshine Behavioral Health strives to help people who are facing substance abuse, addiction, mental health disorders, or a combination of these conditions. It does this by providing compassionate care and evidence-based content that addresses health, treatment, and recovery.
Licensed medical professionals review material we publish on our site. The material is not a substitute for qualified medical diagnoses, treatment, or advice. It should not be used to replace the suggestions of your personal physician or other health care professionals.